Enabling complete and sustainable value chains for carbon capture-, transport and storage
CCS value chain
The carbon market is the new emerging trillion dollar-market. To develop a commercial value chain of CCS is essential to the decarbonization of European industry.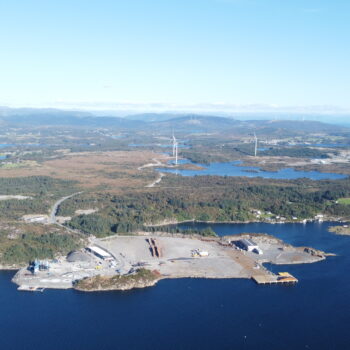 The interest in carbon dioxide storage in Europe is substantial. Horisont Energi is developing a land-based carbon dioxide-terminal in Norway, subsea pipeline, and a seabed liquid carbon dioxide distribution and injection system connected to a future offshore underground storage.  
The terminal is designed to be capable of receiving carbon dioxide from both domestic and European industry, including carbon dioxide from the planned carbon dioxide-terminal in the Port of Rotterdam. 
We will develop a land-based terminal for intermediate storage of carbon dioxide at Haugaland Næringspark, port of Gismarvik, before it's transported in pipes and permanently stored in a future offshore reservoir. The terminal is planned to be Norways second land-based carbon dioxide-terminal for intermediate storage. 
The CCS industry explained
What does CCS stand for? Why is it defined as one of the key measures by the IPCC (UN's intergovernmental panel on climate change) to prevent and reverse climate change? How does the technology work, and why is Norwegian industry key to develop the CCS market?

We know it's a lot to take in. The most important thing to remember about CCS is that it is crucial in reducing emissions in the short run, and in the long run enabling negative emissions.
CCS definition and climate impact

CCS stands for carbon capture and storage. Today our energy demand is dependent on fossil fuels, making the fossil economy the largest contributor in the energy market. The world is dependent on decarbonizing large industries such as the oil- and gas industry, but also other hard-to-abate sectors. We are enabling a complete value chain for CCS, meaning that third parties can store emissions from production sites in offshore storage locations. Moving forward, the carbon market will grow as a key contributor in the energy market and becoming a trillion dollar market on it's own.

How does CCS work?

Carbon capture and storage involves three steps – capture, transport and storage.

Capture

During capture, CO2 is separated from other gases produced at large industrial facilities, such as steel mills, cement plants, petrochemical facilities, coal, and gas power plants, or from the atmosphere. There are several capture methods in use – all are proven and effective, with different methods applied based on the emissions source.

Transport

Once separated, the CO2 is compressed for transportation. This means increasing pressure so that the CO2 behaves like a liquid. The compressed CO2 is then dehydrated before being sent to the transport system. Pipelines are the most common mode of transport for large quantities of CO2. For some regions of the world, CO2 transport by ship is an alternative.

Storage

Following transport, the CO2 is injected into deep underground rock formations, often at depths of one kilometre or more, where it is safely and permanently stored. These rock formations are similar to what has held oil and gas underground for millions of years. Close to 300 million tonnes of CO2 has already been safely and successfully injected underground. Fortunately, there is an abundance of storage available around the world and on the Norwegian continental shelf (NCS).

The Norwegian CCS potential

The Norwegian Continental Shelf (NCS) has an estimated storage capacity of 83 billion tonnes CO2, which is equivalent to Norway's total emissions for 1500 years, or the EU's total emissions for 25 years. The climate impact with global scale CCS industry in Norway is substantial. Norway has the resources and needed infrastructure to build this industry, and competence and experience from over 50 years from the oil- and gas industry. We are the perfect host for a global CCS industry, contributing on large scale reduced emissions and enabling a solid carbon market. The clean sky is the limit!