Horisont Energi signs LOI with Barents NaturGass AS for offtake of clean ammonia
26. October 2023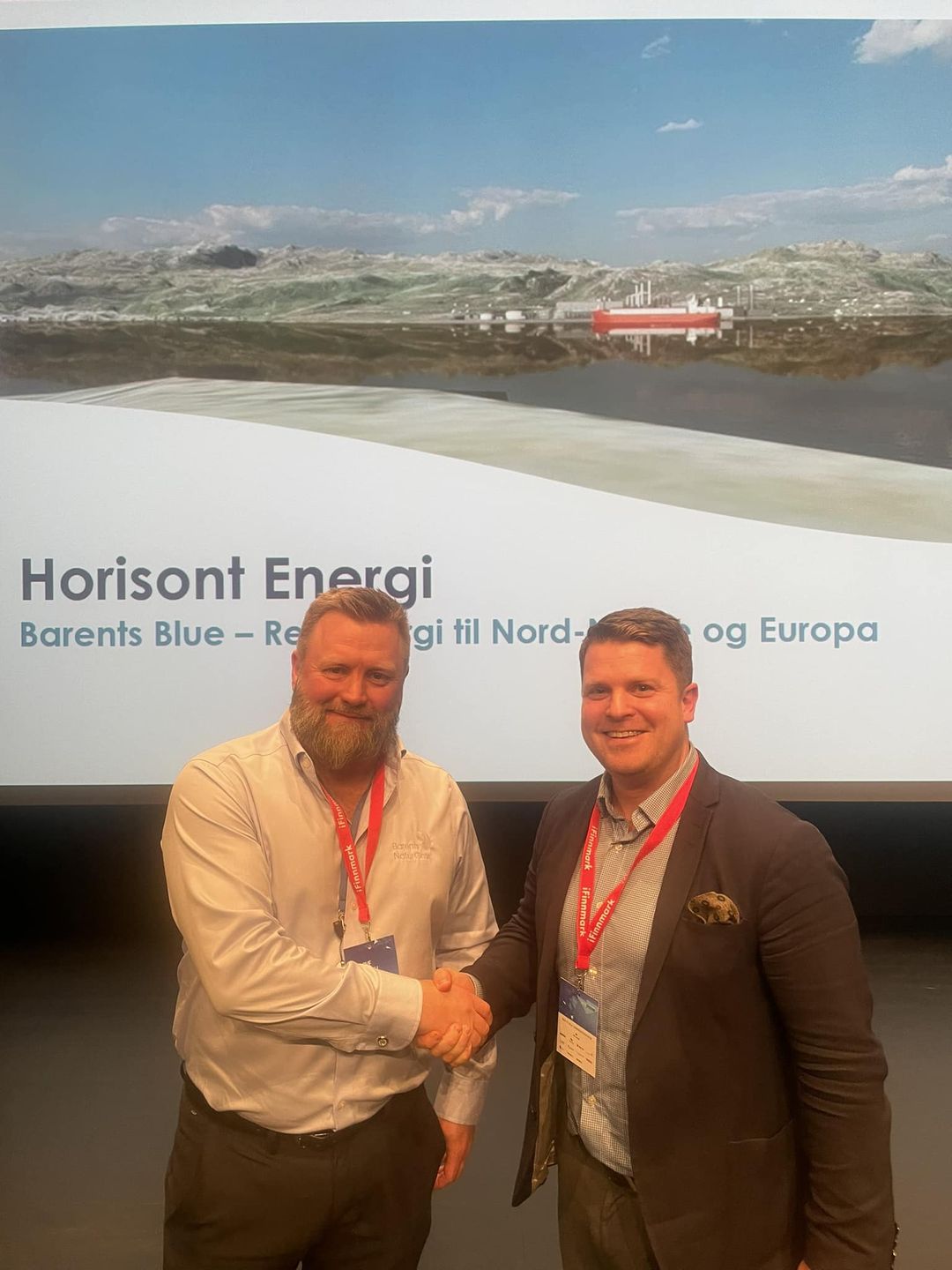 SANDNES, Norway 25 October 2023 – Horisont Energi (EURONEXT: HRGI) has signed a Letter of Intent (LOI) with Barents NaturGass AS for a long-term purchase agreement of up to 100,000 tonnes annually of clean ammonia from Horisont Energi's and Fertiberia's Barents Blue plant.
Under the LOI the two companies will assess the market opportunities and review technologies required to develop clean ammonia as an energy source for the industry in Northern Norway. The companies will also explore the possibilities of receiving public funding support from Enova, Innovation Norway, or other relevant funding providers.
"Although the main market for clean ammonia will be on the European continent, we also intend to serve local demand for clean ammonia with a filling station at the planned Barents Blue plant. This is the first agreement for local delivery of clean ammonia in Northern Norway, enabling the build-up of a clean energy industry and emission-free last-mile transport in the region," says CEO Bjørgulf Haukelidsæter Eidesen in Horisont Energi.
Barents NaturGass is the leading reseller and distributor of LNG and Liquefied Biogas in the Barents region, with an interest to expand its product portfolio into clean ammonia and CO2 capture once this becomes available in the region.
The Barents Blue plant is currently being planned for an annual production level of 1 million tons, making it Europe's first large-scale clean ammonia plant. The offtake agreement follows the signing of a joint development agreement between Horisont Energi and Fertiberia earlier this year. In June, Horisont Energi secured sufficient power supply for the first stage of the project.
The Barents Blue project has received a conditional grant of NOK 482 million from Enova, as part of the IPCEI Hydrogen program.
For further information, please contact:
About Horisont Energi:
Horisont Energi (EURONEXT: HRGI) is a Norwegian clean energy company that provides clean energy and carbon transport and storage services. The company will transform gas, water and renewable energy into cost-leading clean ammonia and hydrogen and offer CO2 transportation and storage services using proprietary technology, paving the way for a low carbon economy. The company was founded in 2019 and is headquartered in Sandnes, Norway.
You can follow us on:
https://twitter.com/horisontenergi
https://www.linkedin.com/company/horisontenergi/
About Barents NaturGass AS
Barents NaturGass is a Scandinavian gas company that sell and distribute natural gas and LNG. Common uses are industrial processes, ships and vessels, cars, trucks and buses, central heating systems for commercial use or residential areas. You can read more about the different uses by browsing our site. Founded in 2005 we built northern Norway's first LNG-terminal in 2006. Barents NaturGass normally builds owns and run all our installations and delivery chain until the gas is consumed by the customer. This makes the change easy for companies that look for a more competitive and environmentally friendly energy solutions.